Deep Water Magnetic Salvage Fishing Magnet
Brand: magnet forever
Product origin: china
Delivery time: 35 days
Supply capacity: 100000 pieces/month
strong neodymium magnets,
the maximum pul force can be 1000kg.
CNC machine processing, high precision.
Metal shape and size can be customized.
Download:
Deep Water Magnetic Salvage Fishing Magnet
Deep Water Magnetic Salvage Fishing Magnet
Super strong neodymium magnet assembly, easy to clamp the hook, open the hook, close the hook, 360 rotating hook.
Used to hang tool belts or other heavy objects on metal walls, beams, and cabinets.
This powerful hook is suitable for salvage, trucks, workshops, auto repair and service stations, and even warehouses.
No need to use nails or screws, can be used indoors or outdoors, permanently or temporarily fixed on various black metal surfaces, such as I-beams, door frames, storage shelves, work shelves, metal cabinets, etc.
The magnetic hook is strong enough to fix and hang ropes, power tools, wires, cables and metal loops.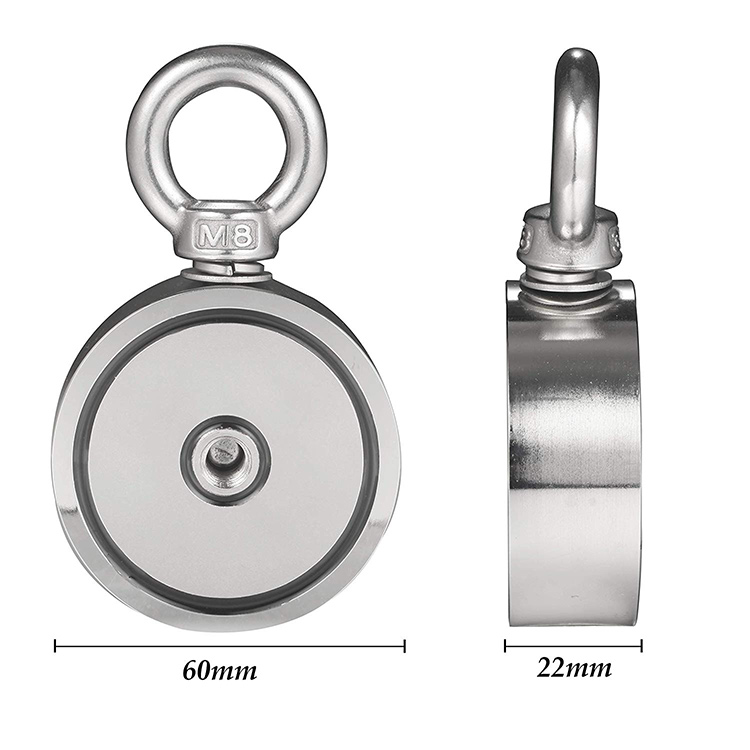 A deep water magnetic salvage fishing magnet, often referred to as a "magnet fishing" magnet, is a powerful neodymium magnet designed for retrieving metal objects from bodies of water, such as rivers, lakes, or ponds. Here's some information about this type of magnet:
1. Neodymium Magnet:Deep water salvage magnets typically use neodymium magnets due to their exceptional magnetic strength. Neodymium magnets are strong enough to attract and lift a variety of metal objects from the water.
2. Pulling Force:The pulling force of a deep water salvage magnet is a crucial factor. These magnets are often rated by their maximum pulling force in kilograms or pounds. The strength of the magnet determines what types of items it can retrieve and how deeply it can reach into the water.
3. Coating:To protect the neodymium magnet from corrosion, these magnets are usually coated with a layer of nickel-copper-nickel (Ni-Cu-Ni) or another suitable coating. This coating prevents the magnet from rusting when exposed to water.
4. Eyelet or Attachment Point:Deep water salvage magnets typically have an eyelet or attachment point on the top, which allows users to secure a rope or cord for easy retrieval. This design ensures that the magnet can be safely deployed and pulled back up from the water.
5. Rope:Users will typically attach a strong and durable rope to the magnet for lowering it into the water and retrieving objects. The length of the rope can vary depending on the depth of the water you plan to fish in.
6. Safety Considerations:Safety is paramount when engaging in magnet fishing. Ensure you are aware of local laws and regulations regarding magnet fishing, as some areas may have restrictions. Be cautious when handling metal objects pulled from the water, as they can be sharp or potentially hazardous. Wearing gloves and using proper safety gear is advisable.
7. Types of Finds:When using a deep water salvage magnet, you can expect to retrieve a wide range of metal objects, including coins, jewelry, fishing lures, tools, weapons, and even historical artifacts. Always be prepared to properly dispose of any potentially dangerous or environmentally harmful items you may encounter.
8. Environmental Considerations:Be mindful of the environment while magnet fishing. Avoid disturbing sensitive habitats or ecosystems, and dispose of any trash or debris you encounter properly.
Before engaging in magnet fishing, it's essential to research local regulations and safety guidelines to ensure that you are conducting this activity responsibly and legally. Deep water salvage magnets can be a fascinating hobby, but it's important to approach it with safety and environmental awareness in mind.